International Bachelor Degree Program in Finance
NPUST|Finance
Establishing International Learning Environment
Enhancing Foreign Language Skills
Practical Employment Oriented
Our program provides students an English immersion environment to foster professional knowledge of finance, to strengthen the ability of theoretical application and empirical analysis, to cultivate the belief of professional ethics and to broaden their global vision.
Latest News
Internship&Scholarship
AI FinTech
Latest News
Internship&Scholarship
AI FinTech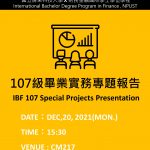 IBF 107 Special Projects Presentation
Dear IBF freshmen,                                                                                          
                                       Welcome to join IBF. 
        IBF was established in August 2015 IBF is the only English finance related program in all Taiwan Science & Technology Universities. IBF is with the highest entrance score in business related departments in Pingtung Area for five consecutive years since its establishment. Now we have 66 students in total (not including the international students of 2019 class). 
        The objectives of IBF are to equip students with financial related professional knowledge, with abilities of applications of finance theory and empirical analyses, with global view and with elegant character and belief of ethics. The major development features include improve students' English abilities, creating international learning environment, and overseas employment oriented.
        In order to fulfill the above mentioned objectives and development features, IBF takes some supporting plans in curriculum design, student recruit, and cooperation plans with companies. As to enhancing students' English abilities, IBF invites six faculty members from department of Applied Modern Languages and Language Center, NPUST to offer English Writing, English Conversation, English Listening, English For Business Communication, and English For Business Presentation, etc. Besides, four faculty members from other departments of College of Management, NPUST join IBF to offer fundamental management courses in addition to six finance major faculty members. IBF also cooperated with Toastmaster International to offer an eight-week "Speechcraft" course to our students during September to December 2016 and co-hosted a "table topics training & contest" in October 2018. Our students benefited a lot from the programs and improved a lot in communication and presentation. Under the support of Ministry of Education, Taiwan, IBF also offered free TOEIC class for our students to help them preparing the TOEIC test in the first and second semester of 2017 academic year. IBF also offered free Chinese class for our international students in 2018 winter break and second semester. Two of our students just became the winners of total five of 2018 AIT (American Institute in Taiwan) Business Writing Contest, in which they defeated more than sixty competitors.
        As to create international learning environment, we have several international students apparently and we expect to have more international students in the future. IBF students will join at least four courses with international students from other departments of NPUST. In addition, nine students from Kasetsart University, Thailand joined IBF in June 2017 for a short term exchange student program and four students from Department of Finance.
        China Northeast Agriculture University joined IBF in the second semester in 2017 and 2018 academic year. And in 2018 fall, one of our student left for University of Science and Technology Beijing for a one semester exchange program. IBF has gradually implemented the goal of creating international learning environment.
         As to overseas interchange, IBF encourages all students to seek to work abroad after graduation, especially ASEAN countries. In addition, IBF also seeks potential internship opportunities offered by multinational companies for our students. Two sophomore students went to Ho Chi Minh Branch of CTBC Bank for a 6 weeks internship in 2017 summer under the sponsorship from the Ministry of Education. This internship was widely reported in the press and media and received great attentions. This summer, two students are currently in LH bank, Thailand for a 6 weeks internship and five students went to Thailand and China, respectively for a short-term exchange program this summer. One went to Guolian Futures (Wuxi, China) for a summer intern by his own connection in 2018. And two of our senior students have just finished their internships in Vietnam and Mauritius (Africa), respectively. There will be 14 students in total (among 63 local students) who have engaged in overseas internships or exchange learning till the end of coming summer break, 2019.
        As to improve students with financial related professional knowledge, and with abilities of applications of finance theory and empirical analyses, IBF offers curriculum in corporate finance, banking, and asset management investment, as like other finance programs. The different design in IBF is that we introduce company faculty member system for some courses. In these courses, the faculty members from companies will cooperate with our faculty members to share their experience in certain field in class, to help students with better combination of theory and practice. We encourage all students to acquire the related financial licenses and certificates. Our program has established practice exam system of financial certificates in our website, in order help students preparing for the related official exams. Till the end of April 2019, our local students have obtained more than 119 financial certificates including Financial Trust, Internal Control, Life/Property Insurances and ERP financial modules, etc. In June 2019, two of our senior students won the first place in a Wealth Management Contest, in which more than 128 teams were participated.
        To narrow down the gap between theory and practice, we encourage all students to participate in a full semester internship in the final semester. The potential internship institutions include commercial banks, investment banks, insurance companies, Trust companies, and finance or international business departments in companies or NGO. For the 2015 Class, our students have 100% received a full-time invitation from the companies they just finished the one semester internship. To let students be familiar with the practice, we have arranged students to have a 30-45 days short term internship for every summer break. Our partner companies include La Kaffa (OTC-listed), Kingza International (OTC-listed), President Futures, Fubon Asset Management ,Fubon Property & Fubon Life Insurance (subsidiaries of exchange-listed companies), CTBC Bank (Exchange-listed), LH Bank (Thailand), Finance and Taxation Bureau of Pingtung County Government and Kaohsiung MRT Company etc. Especially, the co-founder, Miss Wang, of La Kaffa donated NT 500,000 scholarship to IBF. Including all international students, more than 10 IBF students every year will be benefited from this scholarship.
If you have any further question, please feel free to contact me.
Best regards,
Dr. Hung, Rern-Jay (bruce)
Professor and Chair, International Bachelor Degree Program in Finance, NPUST
+886-8-7703202-7816/bruce@mail.npust.edu.tw